YA Book Reviews by Amy
YA Book Reviews by Amy: High Stakes Competitions
One of my favorite plot devices is high stakes competitions. I can tell you that it all started from reading the 4th Harry Potter book: Harry Potter and the Goblet of Fire when I was in fourth grade; in this installment, Harry is a competitor in the Tri-Wizard Tournament. The tournament consists of three tasks that they must complete and are given a score, highest score wins, but the tasks are dangerous and, in the end, proved to be deadly. I was enthralled and imagined myself being placed in Harry's shoes; I'd wonder how I would have handled things differently, what would have been my path to winning, would I even want to compete?
Around this age I also got into reality game shows like Big Brother, The Amazing Race, and Survivor. It was fun imagining how well I would do in the different immunity games and how good or bad my social game would have been just like when I read Harry Potter. When I read The Hunger Games, it was cemented that I find this kind plot very immersive, and I did not want to put the book down.
Here are some of my favorite books featuring a high stakes competition where losing might mean disappointment, exile, and even death.
---
The Hunger Games by Suzanne Collins
In Panam, a futuristic United States, 12 districts have been created, but many live in severe poverty and must conserve the essentials of living because they are not given much. Each child from the age 12-18 are placed in a lottery to compete in the Hunger Games. The Hunger Games is a yearly event in which one boy and one girl of each district are chosen to fight to the death until only one survives. This year, the 74th Hunger Games, Katniss finds herself competing in the games that almost guarantees death, but she has a decent chance at winning and giving hope to District 12 for the first time in decades.
One of the books that have started it all! I love competitions with high stakes, a corrupt, but ultimately interesting government structure, and the fact that it felt impossible not to read it in one sitting; The Hunger Games ticked all those boxes. I cared about the fates of Katniss and Peeta that only grew as the series continued. The movies are also done so well and are a lot of fun.
Available on Overdrive, as an eAudiobook on Hoopla, and at the library* for checkout.
---
All of Us Villains by Amanda Foody and Christine Lynn Herman
Every generation, seven families must select a teen to represent their family to be a competitor for the Tournament. When the blood moon rises, the Tournament can last up to several months if no one is as bloodthirsty as some were in the past. The goal is to be the last one alive and the winner's family receives the high magic that is highly sought after. This year is a little different when outsiders of the town and the media get a hold of this story. Now people are placing bets, and others are trying to stop it. Some of the teens have been bred for this life style, while others know they don't stand a chance. Friendships, alliances, and bonds are put to the test, but is there a way to break this curse?
This was so much fun! The characters start off pretty unlikable, but the authors ensure that you care about all of them and their survival in the end. I liked the different rules of the Tournament and easily placed myself into the story. The world building was fantastic and readers will connect to the different characters since the relationships between them are messy, but they are human and they care about more than just their survival.
Available on Overdrive and at the library* for checkout.
---
The Scorpio Races by Maggie Stiefvater
On the island of Thisby, every November, people compete in The Scorpio Races; the riders try to tame water horses called capaill uisce, and race to the end. These creatures are dangerous and can kill. Puck is the first girl to compete ever, but enters the race with Dove, her own horse. Sean, a former champion, also enters the race to win after promising himself not to fear the water horses after witnessing the death of his father. When Puck and Sean meet, there is a connection formed, but they both know that there can only be one winner.
I read this book quite a long time ago, but it has stuck with me after all these years. It was a fast paced read that was hard to put it down. I really liked Puck and Sean's relationship, and it was difficult to root for one, knowing that the other would have to lose. A really fun standalone.
Available as an eAudiobook on Overdrive and Hoopla, and at the library* for checkout.
---
Spin the Dawn by Elizabeth Lim
Maia, a secret seamstress and designer, and she must keep up with appearances; her father is the tailor, one of the best in the world, and it cannot be known that a woman has been helping him throughout the years. When the emperor takes a new bride from a distant country, she must have a tailor to impress her. When Maia's father is unable to take the challenge, Maia disguises herself as his able and willing son. Maia must compete to become the next palace tailor and her secret must not be found out. Winning becomes necessary, but the challenges that the new empress presses upon her could be deadly.
This has been called a mix of Mulan and Project Runway; I enjoyed the first half because of the competition aspect, and then I also enjoyed the second half of the book because it was an entertaining adventure with some fantastical elements. A fun read with some political intrigue and romance.
Available on Overdrive and at the library* for checkout.
---
The Seventh Sun by Lani Forbes
Mayana is the daughter of Chicome family, a group of people that are able to control the element of water after sacrificing blood. Mayana does not have faith in in the sacrifices even though it is a part of her people's belief system. Having to hide her opinions while showing off her abilities to be in contention to be Prince Ahkin's wife, Mayana must compete against other girls with powerful elemental magic. Some of these girls will become friends and allies, while others will become enemies. Will she win Prince Ahkin's heart while still being true to herself?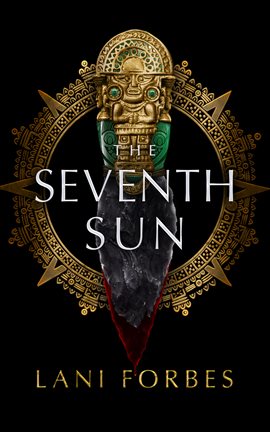 Lani Forbes does a great job incorporating Mesoamerican history (particularly Aztec culture) with fantasy to create an original plot and setting that makes me want to learn more about ancient Central and South American cultures. I loved The Bachelor like competition that reminded me slightly of a magical and ancient version of The Selection. The main characters are compelling and I was left interested in the side characters' stories as well. This is one of my favorite series to date!
Available on Hoopla
---
The Selection by Kiera Cass
In this dystopian tale, America is chosen to be one of thirty-five girls to try to win the prince's heart and become the future queen. She must compete against the other girls against her will to save her family and the boy she loves that she had to leave behind.
The Selection reminds me of The Bachelor combined with 'old school YA' tropes with the main female protagonist up against a dystopian society, and she is mixed in a love triangle. While this book is cheesy at moments and frustrating at others, I found it completely addicting and difficult to put down. This is definitely a guilty-pleasure read, but I thought it was so much fun.
Available on Overdrive, as an eAudiobook on Hoopla, and at the library* for checkout.
---
Three Dark Crowns by Kendare Blake
Three sisters, each with unique magical abilities, grew up separately, knowing that they must fight against each other to the death. Katharine has grown up as a poisoner; her ability to digest any poison without dying is coveted in Fennbirn. Mirabella has been foreseen as the most powerful, her elemental magic is strong and deadly. Arsinoe is a naturalist, she should have power over growing plants and have bonds with animals, but she has yet grown into those gifts. Are the sisters willing to kill to get the crown? And which sister will become queen?
Dark plot, dark powers, and even darker characters that will make it difficult for you to know who to root for. The competition starts in this book and it is very intense. Each sister has a reason to want to win. I listened to this entire series, and I am so glad that I finally gave this series a chance. I really got a sense of the world that made me care about the fates of our main characters.
Available on Overdrive, Hoopla, and at the library* for checkout.
---
The Inheritance Games by Jennifer Lynn Barnes
When the Hawthorne estate contacts stranger Avery, she has no idea how she, a poor girl just trying to survive, is linked to this wealthy family that lives halfway across the country. She has never met them, but when it is announced that she will inherit the majority of Tobias Hawthorne's estate after he died, she instantly becomes one of the wealthiest teens in America and becomes the bane of the surviving Hawthorne's existence. Avery must work alongside with the four grandsons to figure out her connection while trying to survive.
This is a mix of the movie Knives Out and the middle-grade book The Westing Game by Ellen Raskin for teen readers and lovers of the YA mystery genre. There is a competition aspect between the brothers that is a little more than family friendly. I loved the clues and mystery surrounding the inheritance of this semi-likable and dysfunctional family. The conclusion wraps much of the story up, but leaves enough mystery for the future sequels.
Available on Overdrive as an eBook and eAudiobook and at the library* for checkout.
*check the link for available copies or to place on hold