YA Book Reviews by Amy: Favorite Romances
Romance is a genre that I do not necessarily pick up, but it usually appears in one form or another in most the books that I read. Most of my favorite genres like mystery, fantasy, retellings, and historical fiction usually have romance as a subgenre and usually the romance makes or breaks the story for me.
A good romance has the power for readers to root for a couple, have those feelings in which makes one believe in true love, and could make the reader feel just a little lighter. While a bad romance can burden the reader, potentially bring up bad memories, make one feel cynical, and so much more. Both are effective when creating a mood or tone that can last with the reader long after they close the book. But maybe the worst are the 'meh' romances; the ones in which you think to yourself, "they ended up together?" or "that couple had absolutely no chemistry," or my least favorite: feeling like the romance was something just added in the last moment with the characters having no real connection. The romance in a book can lead me enjoying the book a little bit more if it is added correctly!
Here are some of my favorite good romances and couples that I have read in YA!
---
Down Comes the Night by Allison Saft
Wren is a healer that is discharged from her position from the Queen's Guard when she doesn't follow orders. Without a clear path in life, Wren accepts a healing job at an isolated estate. The letter is from neutral lord that wants his servant to be cured. When Wren arrives, she quickly realizes that the man is not a servant, but Hal Cavendish, a fierce fighter for the other side of the war. Can she heal a man who causes death to her people? Does his reputation match up to his true past actions? Will Wren find her place in which she feels useful and wanted?
This standalone book is the perfect mix of magic, political intrigue, romance, and self-discovery. I wholeheartedly enjoyed this book cover to cover. I loved Wren and felt like I could really relate to her. This just solidifies that I enjoy reading books about magical healers! I swooned at times with this romance because I thought their attraction and interest was very realistic. Probably my favorite couple that I read last year.
---
We Hunt the Flame by Hafsah Faizal
Zafira is a huntress disguised as a man to provide food for her people. She is the only person that can enter the woods that surround her home and return. Nasir is a prince and a deadly assassin. When both Zafira and Nasir are tasked separately to go to an island to retrieve a magical artifact that will dissolve the woods and bring magic back to their realms, they both realize the deadly stakes, but also know that it will better their communities if they succeed. What will happen when Zafira and Nasir cross paths? Will they work together or will there be animosity that will lead to destruction?
We Hunt the Flame

I absolutely loved this fantasy book. While it had a slower start to world build and get a good sense of the characters, it is worth it by the end. I had to quickly pick up the sequel to finish this duology because I just had to know what happens next. I really enjoyed the budding romance between Zafira and Nasir. Their relationship is complicated, but I was rooting for them to be together!
---
Cemetery Boys by Aiden Thomas
Yadriel wants to prove to his father and community that he is a true brujo with the abilities to see ghosts and help those spirits move onto the afterlife. After performing the ritual to the Lady of Death, Yadriel receives his powers and decides to resurrect the spirit of his recently missing cousin to figure out what happened; instead Yadriel brings back to life Julian, a boy his age, that cannot remember how he just died. Yadriel believes Julian's death and his cousin's disappearance might be connected; can they solve the mystery before Día de los Muertos?
This is one of my favorites books ever! Yadriel and his companions are so likable. The plot is full of mystery, culture, and romance that just hit all the right notes for me. The romance was absolutely swoon worthy and made me smile. I have such a big love for this book!
---
The Clockwork Scarab by Colleen Gleason
Mina Holmes is the niece of famous detective Sherlock Holmes; just as analytical as her uncle, Mina can come across as cold and logical even when her mother went missing years prior. Evaline is the sister of famous author, Bram Stoker (author of Dracula) and has a secret, she is a vampire hunter during the night. Mina and Evaline must work with each other to solve a murder at the museum. The only clue that they have is a clockwork scarab.
This is my favorite steampunk series! It has a great combination of strong, realistic adoration between our two main characters, fantastic slow burning romance, time travel, mystery and more. This is a really fun series, continue reading with The Spiritglass Charade, The Chess Queen Enigma, The Carnelian Crow, and The Zeppelin Deception. The romance that Mina has is epic and is truly one of my favorite slow burning couples that I have ever read!
---
Vengeance Road by Erin Bowman
Kate Thompson is seeking vengeance, or as Kate sees it: justice, after her father is murdered by a group of bandits seeking information and secrets from a journal. Disguised as a boy, Kate begins to track down the Rose Riders. On her journey she encounters: a pair of brothers that she just can't shake, a deadly poker game, a superstitious story that may be true, and a promise of gold. But as Kate has learned, "gold makes monsters of men."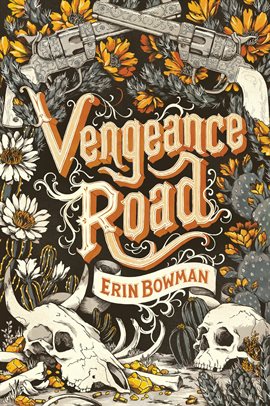 This is the perfect YA western in my opinion. It has a strong female character and a plot that is fast paced, but also has slower moments of great character building. The romance was just enough to make me want to see more, which readers will see if they read the companion book Retribution Rails. This story, written with 'Old West' dialect, could turn some readers off, but it immerses the readers in the story.
---
To All the Boys I've Loved Before by Jenny Han
Lara Jean loves to express her feelings of love of her crushes through super private-never to be sent letters. The last letter she wrote was to her current crush, Josh, that also happens to be her sister's boyfriend. When the letters are accidently sent out to the five guys she wrote about the last few years, she must save face. Lara Jean pretends to date, Peter K., another letter recipient who has his own motive. How will Josh react to receiving his letter after Lara Jean's sister just broke up with him? And will the fake dating with Peter K. lead to real feelings?
Lara Jean is such a likable character that I could relate to when I was a teen: she is super sweet, but also naïve. The plot is cheesy, but also is pretty suspenseful. I'm not a huge fan of the fake dating trope, but I would recommend this book for anyone that enjoys reading contemporary romance. The Netflix movie is very faithful and very cute if you wanted to read the book and then watch the movie.
---
Stalking Jack the Ripper by Kerri Maniscalco
Audrey Rose has been learning behind her father's back about the new science of criminology with her uncle. Along with handsome student, Thomas, she learns about the gruesome events that are plaguing London: particularly the White Chapel murders done by the infamous Jack the Ripper. Audrey thinks that she might be close to finding the true identity of Jack the Ripper, but she may be closer than she likes, especially when it becomes clear her life may be in danger.
A first book in the series, this book starts off with an exciting plot that explores one of the biggest who-done-its in history. You can continue with Hunting Prince Dracula, Escaping from Houdini, and Capturing the Devil. I absolutely adored Audrey Rose and Thomas's relationship throughout the series and watching them grow together. The are such a cute couple. Although the romance does play a secondary role in this series with its high suspense and mystery!
---
Falling Kingdoms by Morgan Rhodes
In the land of Mytica, three kingdoms have fought for power. Jonas, a rebel from Paelsia will do anything to gain reputation within his tribe and not to be overrun by the north or the south. Cleo, princess of Auranos, has been spoiled her entire life until the life she knows is destroyed and she must go on a rough journey. Lucia and Magnus are the princess and prince of ice-cold Limeros; the king seeks magic to become the leader of all of Mytica. Four separate stories that come together in great and terrible ways.
A YA version of Game of Thrones; don't get attached to any of the characters! I absolutely adore this series of six books. I did not follow my own rule, and I got attached to the characters; there were some I rooted for and others I detested. There is one relationship that I would have considered as my OTP (one true pairing) for many years. That particular romance was intense. This is a great series that would get new readers into high fantasy with easy to follow politics.
---
The Gilded Wolves by Roshani Chokshi
Based in 1889 Paris, a group of misfit characters seek out the inheritance of Séverin who has been excluded from the four most powerful families. An heir of one of the four families offers to restore the inheritance in exchange for the group using their skills to retrieve a magical object. Clues of the old artifact lead the team to a treasure hunt with a mysterious and deadly secret society on their heels. Supernatural events and magic occur the further they delve into the unground city of Paris and infiltrate the city's elite.
In my opinion, this is the YA equivalent of the movie National Treasure; a fun heist read that involves treasure hunting. The characters are diverse, relatable, and likable; I found myself loving Enrique and Zofia, and ultimately shipping them together! I seriously think about this series more than I should! Probably my favorite book series of all time and the romance is just the icing on the cake.