June is Pride Month, and I wanted to celebrate some of my favorite YA books featuring LGBTQIA+ characters, particularly the main characters.
The great thing about LGBTQIA+ books is that the story can focus on one's identity and discovering who they are and who they want to become; other times the story and plot do not focus on that aspect, and the identity is woven in the pages without it being the motivation. I believe that both are important to readers, and I fully enjoy the different styles. I like books about romance and love, but I think I love themes of self-discovery even more.
It is a great thing to be able to see yourself in the pages of a story, or feeling that you can see a friend in the characters. I feel like all these main characters could be my friend!
Here are just some my favorite books that has LGBTQ+ representation!
---
Last Night at the Telegraph Club by Malinda Lo
1954 San Francisco is not exactly a safe time or place for Lily, a Chinese American girl, during the Red Scare. Lily knows that she is different from the people around her, but she cannot put into words of what that difference is until she meets Kath at The Telegraph Club. The Telegraph Club a lesbian club, Lily begins to realize that she has feelings not only for Kath but the performer as well. Will Lily learn about herself and will there ever be a place for her to be safe?
I love historical fiction, especially about a time period that is not written about often, so 1954 in San Francisco was very intriguing to read about. At the heart of the story is Lily learning about herself and her friendship, and eventual falling for Kath, was heartwarming.
Available as an eAudiobook on Overdrive and at the library* for checkout.
---
The Girls I've Been by Tess Sharpe
Nora has tried to escape from her past, but when she, her ex-boyfriend, and current girlfriend end up in a bank during a robbery, she may just have to show who she used to be. Nora was not always Nora, but a slew of girls that used to help run the cons her mother placed her in all throughout her childhood. After she turned her mother and stepfather in to the police, her life has been in danger ever since. Can she con the men trying to rob the bank to gain safety for her friends and innocent bystanders? Or will they take her captive because the price on her head is too good to leave it alone?
This is a quick read that got me out of a reading slump; I could not put this book down. I liked Nora and her fast thinking in a difficult situation was very admirable. Her past was such a driving point in the plot, and it made me intrigued to learn more. I liked her relationships not only her sister, but how she is still friends with her ex-boyfriend, and how her girlfriend fits into each other's lives. If you like suspense and sitting at the edge of your seat, this is for you!
Available on Overdrive and at the library* for checkout.
---
A Clash of Steel: A Treasure Island Remix by C.B. Lee
In 1826, the pirate era seems no longer present in the South China Sea. The Head of the Dragon, the notorious woman pirate leader of the Dragon Fleet, was lost. Anh has always heard tales and aspires to finding the lost treasure the fleet supposedly obtained. Xiang feels trapped when it seems that all she is good to her family for is marriage and a small life. When Xiang and Anh cross paths, both girls realize that they can achieve their goals with each other. A life on the ocean is rough, but both are willing to do whatever it takes to get their version of treasure.
A gender-bent story with a new historical setting with LGBTQIA+ representation. I think this was a really fun adventure with some tough female pirates. I liked Xiang and Anh's relationship and found that their connection was the star of this tale. I was always excited to see their sweet conversations and connection grow on page. The retelling of Treasure Island is pretty loose, but it is still a lot of fun with a pretty great twist.
Available on Overdrive and at the library* for checkout.
---
They Both Die at the End by Adam Silvera
Mateo and Rufus receive their death-calls; these calls insure that no matter what, they will die today. Neither Mateo or Rufus know exactly what time or the circumstance surrounding their death, but know that it will happen. They both decide to make amends to family and friends, find as much closure as they can, and decide to join the app called Last Friends. When they cross paths, they decide to be there for each other to the end and make the best of their last day.
While there is a budding romance between Mateo and Rufus, they are focused on their last day and how they would like to spend it. I really liked following both of their stories, rooting for their happiness and dreading the outcome that has been written in the stars. This book is a quick read, you will not want to put it down!
Available on Overdrive, Hoopla, and at the library* for checkout.
---
Of Fire and Stars by Audrey Coulthurst
Princess Dennaleia has been betrothed to the prince of Mynaria since she can remember, and now is the time to prove herself as she is sent to court and must make the best of impressions to her future family. Dennaleia has a secret that could be deadly if anyone would find out: she has the magical ability to create and control fire. Things seem to be heating up when she meets her betrothed's sister, Mare. Mare is everything Dennaleia is not: brave, confident, and not caring that she is a princess and "needs to be lady-like." Mare is tasked with teaching Dennaleia how to properly ride a horse, and the two grow close, but when assassins are infiltrating the palace, they must work together to solve who is behind the attacks.
I really enjoyed both princesses' stories! Dennaleia and Mare are easy to root for; their friendship and attraction for each other (and their ultimate love story) is the heart of the story, but the secondary plot of the assassination attempts and murders, were also strongly written. I was intrigued throughout and was wondering how everything was going to fit together and end! A really fun fantasy read.
Available as an eAudiobook on Overdrive, on Hoopla, and at the library* for checkout.
---
A Lesson in Vengeance by Victoria Lee
Felicity has returned to Dalloway School after the death of her best friend and girlfriend, Alex. After a year of researching, Felicity wants to find out the truth of the Dalloway Five: five girls that were accused of being witches and murdered in seemingly impossible ways. Not sure what to believe other than thinking she is being haunted by Alex and the house she lives in seems alive, Felicity wants to move on after her senior year. Ellis, new girl and author, moves into her building and starts prompting Felicity to remember. What is real? And what is not?
This book pays respect to many gothic and spooky stories such as Rebecca by Daphne du Maurier and Shirley Jackson's The Haunting of Hill House and so many others, but remains to be absolutely original and fantastic. I was constantly interested in Felicity and her story along with learning the history of the school and the deaths of the witches. Felicity and her relationship with Alex is only hinted at in flashbacks, which makes one wonder what is reality of the situation and her new relationship with Ellis may not be what Felicity needs.
Available as an eBook on Overdrive and at the library* for checkout.
---
Where the Heart Is by Jo Knowles
This summer will be different from all the others; Rachel's birthday kickstarts the summer break, but it is not filled with the carefree moments she is used to. Her parents have been concerned over money, her best friend Micah wants to date her (but Rachel is not sure if that's what she wants), and her job taking care of neighbor's animals is not as easy as it sounds. This will be a summer of self-discovery and help determine what Rachel wants for her future.
A great contemporary read about friendship, family love, and learning about one's self. I think past version of myself would have enjoyed reading this novel and would have found the overarching message very helpful. Rachel finds a little bit of romance, but once again, its not the main plot. This book is perfect for middle school students.
Available as an eBook on Overdrive and at the library* for checkout.
---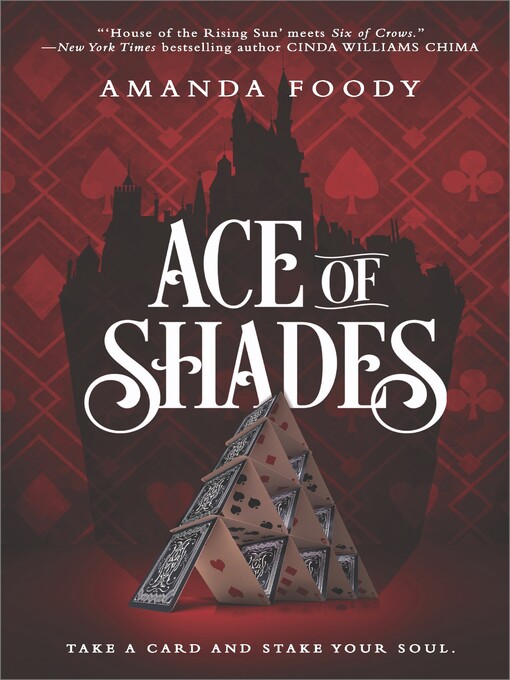 Ace of Shades by Amanda Foody
Enne has traveled to New Reynes, a town that is full of sinners, liars, and deadly situations. Enne must find her mother only knowing that this was the last place she went, and a note telling her that if Enne has not heard from her then she is gone. When Enne meets Levi, a boy with a past and an extremely large debt, they must work together if they want to survive the next few days. They will get entangled in a huge scheme that will destroy any semblance to normal society and every corner holds a deadly secret that could be Enne or Levi's last.
A mix of fantasy and mystery, this is perfect if you enjoy a magical read with some morally gray characters that you end up rooting for. Enne is searching for her adopted mother, and the mystery lies within that search and her own past. The mystery adds so much more to this rich world-building setting and heist-like plot. This is not your average mystery! While love is not a main plot point, identity is a big deal to Enne and Levi.
Available as an eBook on Overdrive.
*check the link for available copies or to place on hold